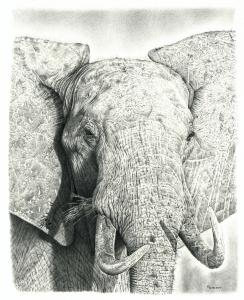 When I was very little I was already creating artwork. I wanted to draw every day. Now I specialize in very photorealistic pencil drawings of people, animals, trees, houses, and everything else I find interesting. I have autism and due to this I see the whole world in tiny little details. My drawings tend to be this way to, very precise and detailed.

I was diagnosed with autism when I was 21 years old. This came as quite relief because I struggled with practically every aspect in of my life. I didn't understand language, I didn't know how to socialize, and I mostly lived inside my own world. When I received my diagnosis I finally knew why, and I could start doing something about it. I went from being a frightened person who didn't understand anything of the world around her, to a person who has quite some self confidence, and who knows what she needs in order to manage her life. Drawing has always helped me. Through my drawing I can create a whole safe world for myself, ground myself, and make contact with others.

When you are out in public, out on the streets or socializing there are so many things you have to focus on at once, so many different details of information come in, all just as loud, and they are all equally important to me. This can be extremely exhausting. When I'm working on a drawing I only have to focus one one thing, the details of my drawing. That's what I love so much about drawing.

I want to get my artwork out there, and even make a living with my art. I want to show the world that even when you have autism, you can make it in this world, and have a place of your own among everybody else.